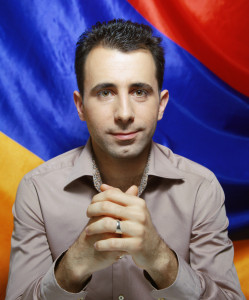 Pavel Sargsyan
Founder and General Director of "Menq" Foundation for popularization of state and national values
As an Armenian and as an RA citizen, I have always felt deep reverence towards the state and national symbols of Armenia. By creating this website dedicated to the RA state symbols, we intend to sow among the younger generation the very acknowledgement of evaluation and honoring the most vital symbol of the state and nation. Creation of "Menq" Foundation for popularization of state and national values followed the same goal and it will implement the above ideas.
We aimed atone more thing, i.e. to inform the public about and to prepare them for our initiative-project to declare July 5 – the day of the Constitution of the Republic of Armenia – the Day of State symbols of the RA and to hold this festive event. We are open to everybody, who are willing to be present at the festivities of July 5. It is our aim to make July 5 an actually national holiday. Similar initiatives and events make us even more united and indivisible giving each of us the feeling of renaissance. I believe these are values that will not leave any Armenian indifferent.
Day of the State Symbols of RA Holiday Project
Project title: Annual holiday of the RA State Symbols
Data of the event: 5 july 2024
Argumentation: Day of the Constitution and State Symbols of the Republic of Armenia
Site of the event: Yerevan and RA marzes
Initiating the organization of a solemn and national ceremony to celebrate the day of the State symbols of the Republic of Armenia we make it our goal to present our flag in a new way to the Armenian nation and to the world community; to form deference and deep respect for one of the symbols of Armenian statehood. The main principle of organizing the holiday of the RA state symbols is to provide popularity. Representatives of all social layers are to participate in the festivities. July 5 must become a comprehensive holiday uniting representatives of the youth, the clergy, culture, sport, science and other fields, political figures. Mainly schoolchildren, students and, generally, the young – those who make up the target group are going to take part.
---
---
Videos and photos of the marches dedicated to the day of state symbols of the Republic of Armenia (2010-2022)
Updated on 26.09.2023